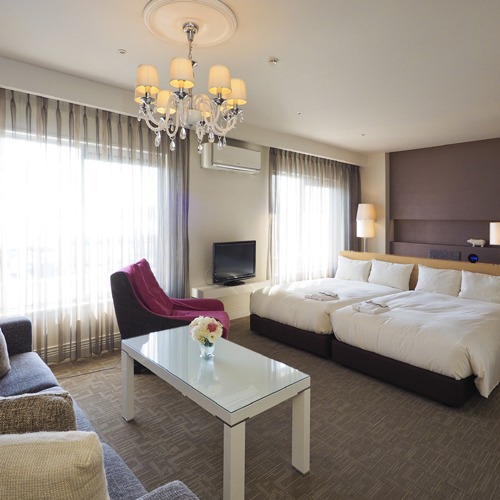 Photo by Rakuten Travel
Clayton Bay Hotel
Kure (Hiroshima)
Situated in Kure- this hotel is within a 15-minute walk of Yamato Museum and JMSDF Kure Museum. Kure Old Naval Port and Kure Municipal Museum of Art are also within 1 mi (2 km).
Address
Hiroshima Prefecture 3-3 Tsukiji-Cho, Kure-Shi, Hiroshima 737-0822, Japan
View map
Check in
15:00-00:00
Check out
11:00
Facilities
Free Wi-Fi
Heating & A/C
Gym
Ratings

?

4

4
Reviews

?

45

4.3 (from 122 reviews)
Please check directly with the hotel for the latest information.
Availability

Age of child at check out
Select your travel dates to see the room details.
General information
The hotel information is subject to change without notice. Please check with your hotel directly for the latest information before your trip.
Address

Phone

++81823-26-1111

Check in

15:00-00:00

Check out

11:00

# of rooms

60

# of floors
Facilities
May include paid services. Some amenities may be available in certain rooms only or may need to be borrowed from the concierge.
The hotel information may change or be updated without notice. Make sure you check the latest information before your departure.
Internet

Free Wi-Fi ** Depending on the deals, Wi-Fi is not free or only available in public areas.
Please check the booking sites for details.

Airport shuttle

Available *

* A reservation and additional fees may be required. Some services may be available in certain areas only. Please contact the hotel directly for details.

Hotel facilities

Restaurant
Spa
Sauna
Casino
Bar/Lounge
Nightclub
Convenience store
Tour desk
Coin laundry
Parking lot
Event venue
Swimming pool
Outdoor pool
Indoor pool
Gym
Golf course
Tennis court
Kiddie pool
Kids' club
Business center
Meeting room
Pet friendly

Hotel services

Room service
Concierge
Currency exchange
Laundry service
Baby sitting/Child care

Amenities

Heating & A/C
TV
Telephone
Newspaper delivery
Safe
Shower
Bathtub
Hair dryer
Kitchen
Kitchenette
Refrigerator
Microwave
Coffee maker
Washing machine
Iron
Clayton Bay Hotel best deals