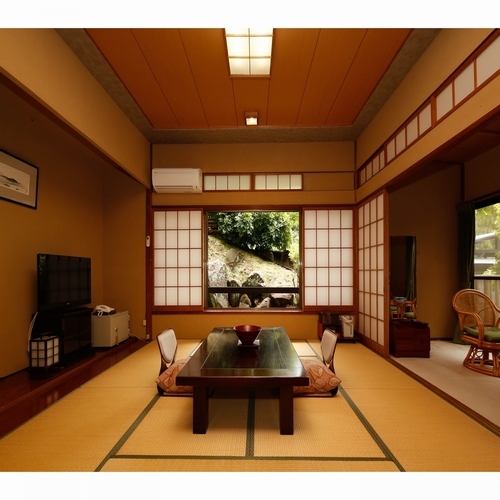 Photo by Rakuten Travel
Auberge Yuraku
Yugawara onsen (hot spring) (Kanagawa)
Yuraku possesses own original hot spring source which supplies 100 ton hot water every day. Cooling rather high temperature of 77 Celsius degree up to seasons and weather, we make the most of innate virtue of retrieving water directly from the source. Come and enjoy our hot spring baths with abundant quality hot water which is said to be effective to fatigue and illness. Exclusive bath where you would feel at ease to spend intimate time. We have a rather deep outdoor bath with plentiful flowing hot water, where you can spend supreme time looking up the starry sky, and a rock bath cavern-like ambience. Come and monopolize spring cherry blossoms dance in front, summer deep green, autumn tints and all four seasonal beauty. Some of the promotional plans we offer include free open-air bath use. Full course meals of fused and refined Italian and Japanese styles. What our chef contrived to blend Italian and Japanese tastes using organic vegetables directly from local farmers and fresh seafood caught from the coast nearby is worth impressing that no other hotels would match up. In addition to the cuisine, various wine brands and cocktails we make ready would enhance the chic mood and conversation. We came to open this library, hoping that you would reminisce the travel and have contact with this region. It is a quiet relaxing space that possesses precious books, travel photo books in tribute to Yugawara. You can also pass the time while just listening to seasonal wind sounds, which is also a style of Yugawara. The room is available free of charge to staying guests. Beverages as coffee and tea, massage chairs and personal computers with internet connection are all available as well. We offer rich dishes using freshly dried fish from local Sagami bay and local mountain vegetables for breakfast. It would be a special time if you feel like putting on the ritz to start your day. We are devoted to offer customized and meticulous service that only cozy inns are capable of.
Address
Kanagawa Prefecture 528 Miyakami, Yugawara-Machi, Ashigarashimo-Gun, Kanagawa, 259-0314, Japan
View map
Check in
15:00-18:00
Check out
11:00
Facilities
Free Wi-Fi
Heating & A/C
Gym
Please check directly with the hotel for the latest information.
Availability

Age of child at check out
Select your travel dates to see the room details.
General information
The hotel information is subject to change without notice. Please check with your hotel directly for the latest information before your trip.
Address

Phone

+0465-62-4126

Check in

15:00-18:00

Check out

11:00

# of rooms

19

# of floors
Facilities
May include paid services. Some amenities may be available in certain rooms only or may need to be borrowed from the concierge.
The hotel information may change or be updated without notice. Make sure you check the latest information before your departure.
Internet

Not available

Airport shuttle

Unavailable

Hotel facilities

Restaurant
Spa
Sauna
Casino
Bar/Lounge
Nightclub
Convenience store
Tour desk
Coin laundry
Parking lot
Event venue
Swimming pool
Outdoor pool
Indoor pool
Gym
Golf course
Tennis court
Kiddie pool
Kids' club
Business center
Meeting room
Pet friendly

Hotel services

Room service
Concierge
Currency exchange
Laundry service
Baby sitting/Child care

Amenities

Heating & A/C
TV
Telephone
Newspaper delivery
Safe
Shower
Bathtub
Hair dryer
Kitchen
Kitchenette
Refrigerator
Microwave
Coffee maker
Washing machine
Iron
Auberge Yuraku best deals